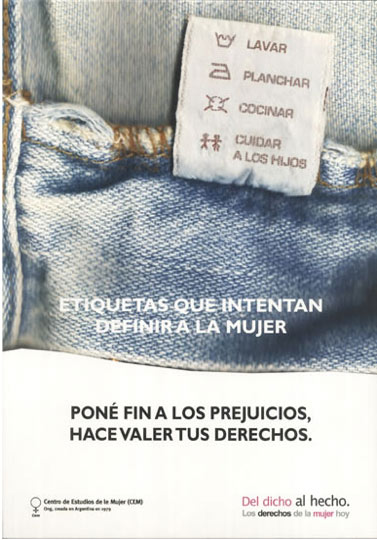 Spain was considered, by United Nations' economic standards, a developing country until 1964.
Lucky for me, it didn't stop developing since then.
It also holds on to some traditions.
Forty years later, a significant part of the population still enjoys the corrida:
challenging a 500-600kg bull to charge till he is tired enough to plant a sword between his shoulder blades,
and all this more by foot than on horseback.
Less ritual -or more probably not- is the indoor violence,
the Junta of Andalucia urging you on television to call an emergency number when you hear things heating up next door.
And there is more communication:
a postcard with a jeanslabel showing 'wash, iron, cook, take care of the children'
'labels that try to define woman
put an end to prejudice,
honor your rights'.
The slogan comes from two students from the as machist country branded Argentina.
They were awarded by the program for the reinforcement of non sexist communication in Iberoamerica.
The post card was lying in a Tarifa chill out bar,
shown to me by a 21 year old Polish HRM student,
so I put it in our own chill out salon at home,
where it was scrutinized twice by my Andalucian house mate,
who didn't say a word about it.
After some time, it disappeared.
It seems easier to kill half a ton of charging bull than some prejudices.